Our theme Verse for 2015
So is my word that goes out from my mouth: It will not return to me empty, but will accomplish what I desire and achieve the purpose for which I sent it.
- Isaiah 55 vs 11

__________________________________________________________________________
You may be wondering why the Church, located at the end of a late Victorian street has such an unusual name. Unusual it may be, but in the Bible we find mention of it very early on in the Old Testament, where Isaac ordered  a well to be dug for water after various disputes had taken place over the rights of the wandering Israelites to draw water from other peoples wells. They dug a new well and no one complained about it, and so they named it Rehoboth which means "the Lord has given us room and we will flourish in the land" (Gen 26 v 22).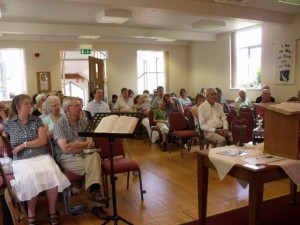 Our church may not be very big but we like to think there is room for everyone who comes along and that those who do will have no cause to complain!
_____________________________________________________________________________________________________________